ROBERT MARTIN (born in 1952 in Hagerstown MD) began composing at age 10. He wrote his first music for orchestra and concert band while still in high school and received performances from local musicians in western Maryland. In fact he wrote the graduation march played at his own high school graduation ceremony. The following summer he spent some time at a scientific commune in central Virginia. At Peabody Conservatory of Music in Baltimore, he studied with orchestral composer Robert Hall Lewis. After receiving Bachelor's and Master's degrees in Music Composition from Peabody he worked at various jobs, including as an apprentice in pipe organ restoration.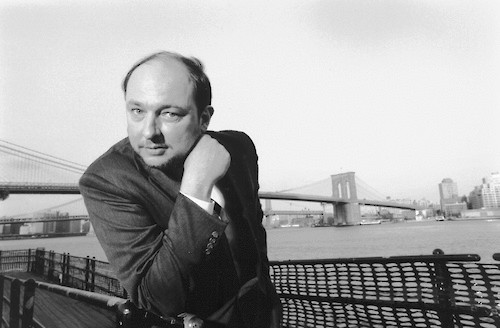 In 1976, the American Academy of Arts and Letters awarded him the Charles Ives Scholarship for outstanding music composition, allowing him to continue post-graduate studies with American opera composer Hugo Weisgall and Mario Davidovsky in New York, where he survived by copying music for other composers. In 1979, he received a Fulbright Scholarship in music composition to Vienna studying Alban Berg's recently completed opera Lulu with Friedrich Cerha. He also traveled throughout the eastern bloc countries making many contacts and friends, notably Durko Zsolt in Budapest. His travels took him to Istanbul, and finally to Israel, where he lived in a fortified Kibbutz outside Nahariyha.
Returning to New York in 1980, he turned his attention to Wall Street, rising to the position of Senior Vice President in investment banking at a leading firm, and serving as financial advisor to the City of New York. His office was on the 100th floor of the World Trade Center.
Throughout his Wall Street career, he worked on financings for hospitals and universities primarily in the U.S. and its territories. He also became an expert in optimization techniques for certain financial structures which he used to purchase and sell over $12 billion in various bonds. Finally, he worked in the area of new financial products, designing a highly successful security, the name of which carried his initials.
After his retirement in the early nineties, again he resumed and intensified his composing. He began to travel in Asia, focusing first on Korea, then Taiwan and Hong Kong. As the 1999 recipient of the Japan-U.S. Creative Artist Fellowship in music composition, he spent six months living and traveling throughout Japan, visiting hundreds of temples and gardens and attending over 60 Noh plays. He returned to New York to find the tech market exploding with growth and through a number of investments, he was able to set up a novel funding approach for contemporary music called the Zethus Fund. He, with his wife Younghee Choi Martin, lives and works in New York City.
Robert Martin is a Grammy nominated composer. His music is published by the Theodore Presser Company, and is recorded on the North/South Recordings, Furious Artisans, and CRI record labels.